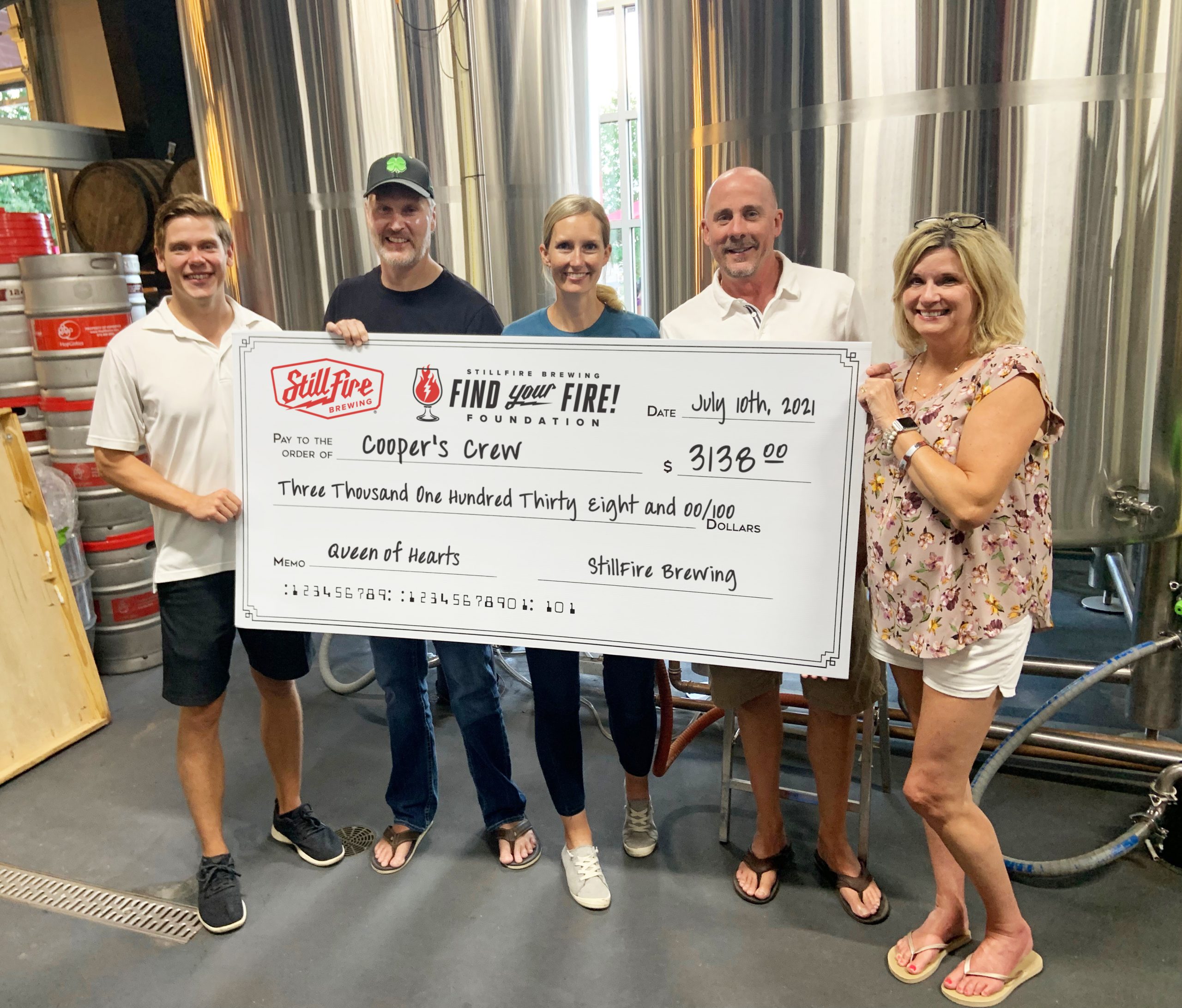 StillFire Brewing's Queen of Hearts
50/50 Raffle Raises More than $12,500
"Since opening our doors, our StillFire team has not only been dedicated to creating innovative craft beers, but we have also strived to foster a more positive quality of life in our community," says General Manager Aaron Bisges. Since launching the Find Your Fire Foundation, the brewery has continued to stand behind that mission.
In August 2020, StillFire Brewing began hosting a Queen of Hearts 50/50 raffle with all proceeds benefiting two local charities: Cooper's Crew and Phoenix Community of Suwanee. The Queen of Hearts Game Board was on display in the taproom with 54 randomly placed cards appearing face down on the board. The goal was to find the Queen of Hearts. $2 tickets were sold at the brewery each week with purchasers choosing a number from all of the cards left on the board. A ticket was drawn weekly revealing a new card.
The brewery held its final raffle on June 29, 2021, when the Queen of Hearts card was found. The final pot totaled $12,552, with half of the pot presented to the winner, with the other half split between the two charities. In the end, the StillFire team was able to donate more than $3,000 to each charity.
The Benefiting Charities
Cooper's Crew is a nonprofit that was founded in honor of Cooper O'Brien, a North Gwinnett Middle School student who lost his battle to Clear Cell Sarcoma at the young age of 14. Today, his legacy lives on through the Cooper's Crew Fund and the Cooper O'Brien Scholarship Fund. The Cooper's Crew Fund provides funding for research and development to help find a cure for childhood cancer. Cooper's Crew has collaborated with CURE Childhood cancer to fund research projects specific to Sarcoma cancers. The Cooper O'Brien Scholarship Fund grants scholarships to graduating North Gwinnett High School seniors who have overcome unique challenges and adversities.
The Phoenix Community of Suwanee is an affiliation of The Phoenix Community of Atlanta, a family of disciples who seek to help bring relief to those who need assistance in the City of Suwanee and beyond. 100% of their proceeds go to help organizations that provide homes for single mothers and their children, addiction recovery, prison support, monthly food acquisition, and long term recovery for childhood abuse victims.'